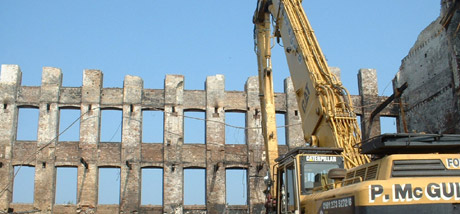 Six Decades, Three Generations, One Name
In the 1940s ...

P McGuinness & Co Ltd is a family firm which was established in 1946 by Patrick Joseph McGuinness (the first of three generations), and was originally located on Upper Brook Street, Manchester.

In the 1950s ...
In the 1960s ...
P McGuinness & Co Ltd was incorporated on 31 May 1966.

In the 1960s the firm was the main contractor involved in the huge slum clearances in Manchester. At this time the founder's sons, Patrick Joseph Junior and Con joined the family firm.
In the 1970s ...

McGuinness was an original member of the Demolition and Dismantling Industrial Register (DDIR). Then on 30 January 1971 became a founder member of the National Federation of Demolition (NFDC).

In 1974, due to expansion, we relocated to Holt Town, Manchester.

In the 1980s ...
The son of Patrick J, Patrick Gerard McGuinness studied a Diploma in Construction and later joined the firm. He is now the current Director.
McGuinness were also the first firm to recycle in the early 1980s, well before the government levies.
In the 1990s …
Through the Prince's Trust, McGuinness in conjunction with British Nuclear Fuel, sponsored an all weather pitch at Ardwick and subsequently Prince of Wales attended the opening ceremony of the new pitch - see photo below.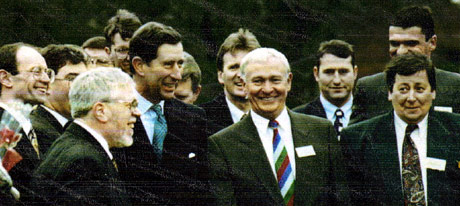 We subsequently won a national prize for this job National Business Sponsorship Incentive Scheme (BSIS) Award, which was presented by the Secretary of State for National Heritage, The Right Hon Peter Brooke on 22 November 1993.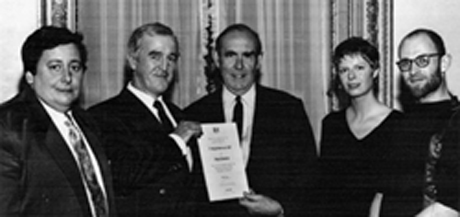 In June 1996 McGuinness were the only contractor involved in the demolition and debris clear-up operation following the Manchester IRA bombing of Corporation Street, Manchester.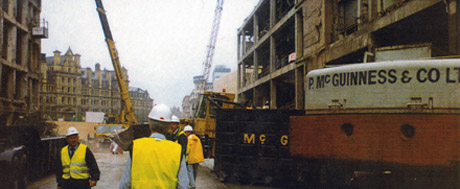 It was estimated that up to 50,000 square metres of retail space and nearly 25,000 square metres of office space was demolished/reconstructed.
The Present ....

McGuinness jointly sponsored the employment of the staff who first investigated the viability of Manchester biding for the Olympic Games. Subsequently, the firm's Holt Town premises were CPO'd due to the 2002 Commonwealth Games held in Manchester. We therefore relocated to our current premises on Rondin Road, Ardwick. We were also appointed as the sole standby contractors for the games if any damaged was caused by terrorism and vandalism.